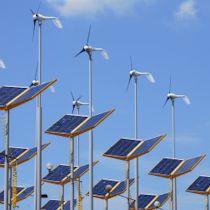 Renewable energy development, driven by rising corporate demand, was a central theme of Wednesday's 2018 Virginia Energy Conference, hosted by the Virginia Chamber of Commerce. Garret Bean, Vice President of Development for sPower and one of the keynote speakers at the conference, discussed his company's proposed 500-megawatt facility in Spotsylvania County, which will serve corporate customers in Virginia. Microsoft announced that it will purchase 315 MW of energy from sPower's 500 MW project as part of its sustainability goal of 60 percent renewable energy by early 2020. In addition to Microsoft, major global companies including Google, Apple, Facebook, and Walmart have joined together to commit to 100% renewable power as a part of the RE100 initiative.
In his keynote, Bean explained that rapid data center development in Virginia, sustaining 70 percent of the world's internet traffic, coupled with customer demand for cloud services powered by clean energy sources, presents a significant opportunity for growth in Virginia's renewable energy sector. However, with the growth of renewable energy, developers are facing siting, permitting, and interconnection challenges that will have to be overcome.
Delegate Terry Kilgore, Senator Frank Wagner, and Secretary of Natural Resources Matt Strickler also discussed the opportunities and challenges of Virginia's renewable energy industry. Senator Wagner voiced concerns about Virginia's proposed regulations to link to the Regional Greenhouse Gas Initiative (RGGI) and participate in its regional greenhouse gas emissions cap-and-trade program. However, with the passage of SB 966 this session, paving the way for 5,000 megawatts of solar and wind energy in Virginia, and Governor Northam's announcement that the Virginia Department of Mines, Minerals and Energy has posted a Request for Proposals for contracts to help strengthen Virginia's offshore wind supply chain and service industry, the future for Virginia's renewable energy industry is looking bright.
If you have questions about Virginia's renewable energy industry, legislation, or regulatory structure, please contact one of GreeneHurlocker's energy and regulatory lawyers.