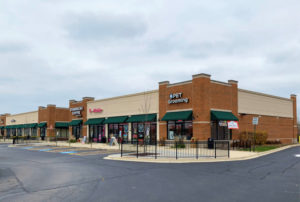 Another rent due date is upon us — the second full month is beginning since COVID-19 hit the US hard.
How has rent relief played out in the retail and restaurant world since my April 1 post below? Perhaps the best way to summarize is that sweetness and light have not flooded the land. This is business we're talking about, after all. Tenants have had to work hard, and are still working hard, to work out arrangements with landlords in a crisis of unknown duration. Landlords speak in terms of having "rational discussions" with their national tenants and wanting to "take care of as much as possible" their mom-and-pop tenants. Over the next few weeks it may become clear whether the gradual "opening up of America" that has already started in Virginia's neighbors to the south — Georgia, South Carolina — will allow tenants to back off a bit from their claims of distress.
As can be expected, landlords — which have their own bills to pay — generally have not agreed to preemptive demands that past-due rent be abated (forgiven) or future rent be 100% waived for the duration of the crisis. Instead, where a landlord is willing to work with a client seeking rent relief, the conversation focuses on gradations of rent reduction, or, more frequently, the deferral of rent due. These deals vary both in terms of how long the deferred period is (whether it be 30 days, or 60 days, or the time period until stay-at-home orders or social distancing restrictions are lifted) and the amount of time the tenant has to pay back the amount deferred. It's a case of unintended landlord financing, and each landlord's lender needs to be OK with it.
Other areas of play in these discussions have included applying the security deposit to amounts due or to-be-due, the exacting of other lease concessions in exchange for rent relief (such as eliminating a tenant's exclusivity provision in the lease), or…well, the possible mix of responses are endless. Landlords have in many cases been requiring that tenants seek as much Paycheck Protection Act help as they can get or exhaust claims for business interruption insurance coverage. And almost always a landlord will not work with a tenant who is in default, at least for reasons other than being a month or so behind in rent.
To be clear, there are many cases in which tenants have been straight-up saying since late March that they are not going to pay rent — any rent — while the crisis is going on, knowing that near-term eviction is unlikely. Then there are other tenants, like Starbucks, that generally have paid 100% of their rent. The general truth lies in the middle: as of mid-April, about 51% percent of retail tenants had paid their April rent, while 85% paid their March rent by that same date, according to the Wall Street Journal (April 20, 2020).
GreeneHurlocker will continue to monitor this as the crisis continues. If you have any questions or issue related to commercial real estate, leases or otherwise, please reach out to one of our commercial real estate lawyers.
— On April 1, we wrote:
April 1 is famous for being a day of jests and frivolity.  However, we're in the middle of the COVID-19 epidemic and few of us feel frivolous.  In this troubled year of 2020, for landlords and tenants in the retail real estate industry, April 1st has another meaning altogether: It's the first monthly rent deadline since COVID-19 in the United States really hit the you-know-what.
As a result, landlords have been receiving emails and letters from their tenants — and sometimes, tenants' attorneys — asking for rent relief.  The requests started coming in earnest three weeks ago and ratcheted up like the virus itself as April 1 approached and sales plummeted.
In a less fraught time, when a particular retailer faces an acute issue like supply disruption, weather anomalies, or other unforeseen difficulties that do not fit into the narrow squeeze of force majeure clauses, a tenant may make a rent relief request.  It could come in the form of  rent abatement (free rent), a rent concession (discounted rent), or rent deferral, which for all practical purposes is a loan.
In such a normal time, if a landlord is willing to entertain a rent relief request, it probably will insist on concessions in return, and will require a written lease modification or forbearance agreement with the tenant.  The landlord will usually insist on deferral, with rent being paid in one lump sum later or amortized over a certain period.  But the landlord may also take the opportunity to go back and renegotiate provisions that were "tenant-friendly" in the lease, such as those giving the tenant the drivers seat in who else can and can't be a co-tenant in the shopping center and what uses are prohibited.
These are not normal times, though, and this is not a normal April Fools Day.
Retail is where the housebound buyer would have spent her money if she had a job and could move about freely.  Retailers truly need help, because no one – not the landlord, not the tenant — wants rows of desirable stores to be empty in six or eight months.  Proceeding according to "normal" landlord behavior is unnecessary—and unwise.
This is certainly what Gary Rappaport, the founder and CEO of Rappaport, thinks, judging from his comments to over 1500 industry viewers today in a Bisnow webinar entitled "Leadership in Uncertainty."  Rappaport, the company, is a Washington DC-area retail brokerage and shopping center owner/manager with approximately 1750 tenants in numerous higher-end shopping centers across the Greater Washington area.
450 of those 1750 tenants have already contacted Rappaport with requests for some sort of rent relief.  By the end of this COVID-19 period, Gary expects at least 600 tenants to not be paying rent.  On this first post-COVID-19 rent due date, everyone knows the pain is going to be real, and the pain is going to last throughout the year.   "Plan for this to be a long-term problem," Gary told his audience today.
Gary is famous in the industry for his unusual availability to offer retail real estate advice to anyone who asks him.  Those, like myself, who have spent even a little time with him can tell that he thinks that doing good is good business.   This is why it came as no surprise to today's webinar attendees that Rappaport, the company, has told every one of the 450 tenants who have requested rent relief – and will tell all those other tenants that will come to him as they face this April 1 rent due date – that there will be no short-term consequences – no late fees, no defaults, no threats — arising from inability to pay their rent Instead, what Rappaport will say is, "Let's kick the can down the road 60 days and see where things are then." Taking dire action now, Gary said, "is not a good business decision."
Sixty days is a meaningful period of time in a business where landlords, like Rappaport, themselves have mortgages and institutional investors that may not have a huge amount of patience.  Taking rent pressure off the table for 60 days is not a pleasant development.
Ending up with empty stores when the virus abates is not attractive either, though.
We've heard this a lot, but it's what you have to believe, whether you own a shopping center, rent space within it, or work in a store or restaurant:  "We're in this together," Gary said today.   "And we're going to get through it."