Virginia Commission unanimously rejects utility "Green Tariff" proposal, representing major victory for renewable energy advocates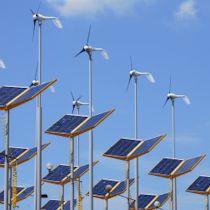 On September 14, 2017, the Virginia State Corporation Commission entered a final order rejecting a renewable energy tariff proposal ("Green Tariff") filed by Appalachian Power Company, finding that the tariff rates were not just and reasonable. APCo's Green Tariff was intended to offer customers the option to purchase 100% renewable energy instead of energy produced from coal and gas-fired facilities. Given the structure of APCo's proposal, the Commission's decision represents a major victory for renewable energy developers, environmental advocates, and clean energy suppliers in Virginia.
APCo's application requested permission to offer a voluntary, 100% renewable tariff to its customers. But APCo proposed to simply repackage generation it was already purchasing via four power purchase agreements ("PPAs"), and then reallocate that energy to participating customers. Customers would have paid 18% more than their standard rates to participate in the program.
The so-called Green Tariff, if approved, would have represented the first time a Virginia utility offered a 100% renewable tariff option for its customers. But, if approved, the tariff would have also largely foreclosed competition for renewable energy and prevented customers from purchasing generation from competitive suppliers. Under current law, most customers are allowed to purchase renewable generation from third-parties only if their incumbent electric utility does not have an approved tariff for 100% renewable energy. See Va. Code Section 56-577(A)(5).
GreeneHurlocker represented the Maryland-DC-Virginia Solar Energy Industries Association ("MDV-SEIA") in the case. MDV-SEIA argued that APCo's proposal was not in the public interest and should be rejected for several reasons. For example, the per-MWh price of the Green Tariff was unreasonably high and not reflective of current prices for renewable energy. MDV-SEIA also noted that the Green Tariff did not contain any solar generation or any Virginia-based renewable resources of any kind.
The Commission agreed with MDV-SEIA, finding that "[APCo] has not established that the rate proposed under [the Green Tariff] is just and reasonable," The Commission also cited MDV-SEIA's arguments that the Green Tariff price "is much higher than prevailing prices for renewable energy." But the Commission noted that APCo is not precluded from applying for approval of a redesigned renewable energy tariff.
APCo is permitted to appeal the decision to the Supreme Court of Virginia by filing a notice of appeal at the Commission on or before October 16, 2017.
The Commission is also currently considering a similar renewable tariff application filed by Dominion Energy Virginia ("Dominion") in Case No. PUR-2017-00060. If approved, Dominion's tariff would severely limit clean energy choices for its large customers and potentially other classes of customers in the future.
Please contact one of our renewable energy lawyers or regulatory attorneys should you have questions about this case. The Commission case number for the APCo matter is PUE-2016-00051, while Dominion's proposal is currently being considered in PUR-2017-00060.