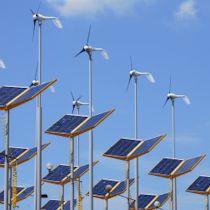 The Virginia State Corporation Commission ("SCC" or "Commission") just approved a new tariff that will give customers of Dominion Energy Virginia ("Dominion") an additional option to purchase renewable energy. On November 6, 2018, the SCC entered a Final Order approving Dominion's application to offer a voluntary tariff designated "Rate Schedule RG." The tariff is available to large, non-residential customers who agree to purchase the output, including all environmental attributes, from particular renewable energy facilities.
Participating customers may request to purchase the output from specific types of generation resources, such as solar and wind energy facilities. Dominion would either construct a new renewable facility or enter into a contract with a third-party generator to obtain the renewable energy necessary to serve the customer. Schedule RG, therefore, presents an opportunity for customers to choose the type of renewable energy they want to purchase. For example, a customer could request that Dominion enter into a contract with a particular generator. Or the customer could request the utility to build a new renewable facility on the customer's premises or in a particular geographic location. The minimum facility size is 1 MW in nameplate capacity.
Participation in Schedule RG is capped at 50 customers. The tariff is also designed to ensure that non-participating customers do not subsidize any of the costs associated with Schedule RG. For example, Dominion may not place any of the Schedule RG facility costs in its rate base or the cost of service charged to non-participating customers.
The financial transactions supporting Schedule RG are complex. Participating customers would stay on their existing tariff and continue to pay all existing utility riders. At the same time, however, customers would pay a fixed price to purchase the renewable energy and would receive a "Schedule RG Credit" that is based on the wholesale price of energy and the capacity of the facility. In this way, the Schedule RG arrangement is like a financial "swap." That is, participating customers would agree to pay a pre-determined renewable energy contract price, but would also receive the market price for the energy, which would be sold by Dominion in the PJM wholesale market. Thus, Schedule RG is designed to approximate the actual market cost of renewable energy from particular generating facilities.
Several parties intervened in the case, including Walmart and two renewable and advanced energy trade associations. While several parties offered comments on the proposal, no party to the case opposed Schedule RG.
The SCC approved the application subject to several reporting requirements. The SCC also held that Schedule RG will expire after three years if no customers participate.
Finally, it is important to note that Schedule RG was not approved under Va. Code § 56-577 A 5 and would not constitute a 100% renewable energy tariff under this statutory provision. As we explained in our Regulatory Guide, this Code section authorizes any Virginia customer to purchase electricity "provided 100% from renewable energy" from non-utility suppliers, so long as the customer's incumbent electric utility does not offer an SCC-approved tariff for 100% renewable energy. Therefore, if Dominion received approval to offer a 100% renewable energy tariff pursuant to Va. Code § 56-577 A 5, Dominion customers would lose their existing rights to shop for such energy.
Currently, no Virginia utility offers an SCC-approved 100% renewable energy tariff. Dominion and Appalachian Power have both applied for approval to offer such tariffs, which thus far have been rejected. In the last three years, the SCC has rejected two 100% renewable tariffs proposed by Appalachian Power and one proposed by Dominion. Dominion currently has one application pending, which would be available to residential and small commercial customers.
The SCC's Final Order in Schedule RG, Case No. PUR-2017-00163, is available here. If you have any questions about Schedule RG or other renewable energy options offered by Virginia utilities, please contact one of our energy regulatory attorneys.