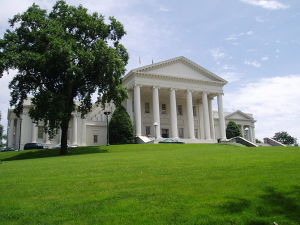 The Virginia Clean Economy Act (HB 1526) would replace Virginia's voluntary renewable portfolio standard with a mandatory renewable content requirement for electricity sales that will scale up to require 100% of electricity sold in Virginia to come from renewable sources by 2050. A report by the Maryland Delaware Virginia Solar Energy Industries Association and the Center for Urban and Regional Analysis at Virginia Commonwealth University projects that 2,500 MW of new distributed solar energy (which would be authorized under the Act) could result in over 29,000 direct solar jobs in Virginia and $4.3 billion in economic investment. This bill has cleared both the House and Senate Committees and is up to be voted on tomorrow on crossover day.
HB 889 is another energy bill to watch. If passed, customers would be able to purchase renewable energy from a competitive supplier, expanding a limited shopping option under current law if a customer's utility does not offer a renewable energy option. This legislation would reduce the time that customers shopping for electricity with a completive supplier must wait before returning to utility supply service. There is also a provision in HB 889 to expand consumer protections for retail electricity consumers, including development of a consumer education website, reporting on customer satisfaction, and additional enforcement to address any "unscrupulous activity in making sales to retail customers."
There are other energy bills under consideration this session. With crossover day tomorrow, we will have a better idea of what legislation will be moving forwards this session.
If you have questions about energy legislation in Virginia or other issues impacting the retail energy and renewable energy industries, please contact Eric Wallace or any of GreeneHurlocker's Virginia energy attorneys for more information.