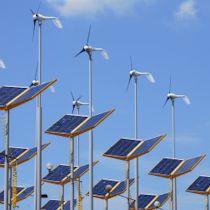 The Regular Session of the 2017 Virginia General Assembly wrapped up on Saturday, February 25. While the approval of an amendment to Virginia's biennial budget received the most attention, the session also resulted in some notable bills affecting the energy industry. In particular, the General Assembly sent several bills to Governor McAuliffe's desk that could accelerate the development of renewable generation in Virginia. Each of these bills is currently awaiting the Governor's signature. Below is a our summary of a few of the noteworthy energy bills passed this session:
SB 1395 – Expansion of Virginia's Permit By Rule ("PBR") option for renewable developers
Currently, developers proposing to construct renewable energy facilities of 100 MW or less may use the Virginia Department of Environmental Quality's ("DEQ") PBR process. The PBR can often reduce the time and expense necessary to receive the state approvals required to begin construction and operation of a solar or wind facility.SB 1395 (Wagner) expands the facility size threshold to allow renewable facilities up to 150 MW to utilize the PBR process. The bill also provides that a small renewable facility owned or operated by a public utility may obtain a PBR, and will be exempted from State Corporation Commission review, so long as the project costs are not recovered from the utility's ratepayers.
HB 2390 – Limited expansion of Dominion's renewable energy purchase pilot program in Appalachian Power's ("APCo") service territory
Virginia law currently allows customers in Dominion's service territory to purchase generation from renewable energy facilities that are located on their property, but that are owned and operated by a third party.HB 2390 (Kilgore) would expand this pilot program to allow non-profit institutions of higher education in APCo's service territory to participate in the same pilot program. The bill, for example, would allow private colleges to purchase 100% renewable energy from facilities owned and operated by third parties. This bill is intended to address an economic challenge faced by colleges who wish to use renewable energy. Colleges, because they have no federal tax liability, are often unable to benefit from federal tax credits for capital investments in renewable energy. Third-party sellers, however, are able to pass the tax savings on to non-profithigher education customers, which reduces customers' power purchase expenses. The program is capped at 7 MW for non-profit customers in APCo's service territory.
SB 1393 – Community solar pilot program
SB 1393 (Wagner) requires both APCo and Dominion to conduct a pilot program that would allow all retail customers to purchase 100% solar energy from new solar facilities located in Virginia and owned by the utilities. Customers would be permitted to voluntarily "subscribe" to a solar energy rate schedule. Currently, neither utility offers customers an option to purchase 100% solar energy. APCo and Dominion would be required to conduct a competitive request for proposals ("RFP") prior to dedicating any particular solar resource to the pilot program.
SB 1394 – Renewable energy program for agricultural customers
SB 1394 (Wagner) authorizes a new program for agricultural customers operating renewable energy facilities on their property. The bill establishes a buy-all, sell-all program whereby agricultural generators may sell 100% of the renewable energy generated to their incumbent electric utility, while continuing to purchase 100% of their electricity requirements from their utility. The utilities are required to purchase the renewable energy generated at a rate not less than the utility's avoided cost rate. (The utility's "avoided cost" is a rate approved by the State Corporation Commission which represents the theoretical cost the utility would incur to obtain replacement power.) The buy-all, sell-all program would only be available for agricultural customers with renewable energy facilities 1.5 MW or smaller.
HB 2291 – Cost recovery for Dominion's nuclear expenditures
HB 2291 (Kilgore) would allow Dominion to seek cost recovery for future upgrades to its nuclear facilities. The bill would allow Dominion to recover such costs through a rider, called a rate adjustment clause ("RAC"), as opposed to through base rates. Before receiving approval of a nuclear upgrade RAC, Dominion would have to prove that it "considered and weighed" the option of obtaining new generation through third-party market purchases. Without the bill, such costs would recovered through a utility's base rates, which are currently frozen due to due 2015 legislation supported by APCo and Dominion. Recovering costs through RACs provides several benefits to utilities, including guaranteed recovery of all expenses, plus a guaranteed rate of return. (Recovering costs through base rates, meanwhile, does not guarantee full cost recovery. If a utility sells fewer kilowatt hours than forecasted, for example, the utility might not fully recover its costs plus a rate of return.)
SB 990 – Tracking Virginia's achievement of energy efficiency goals
Finally, SB 990 (Dance) would direct the Virginia Department of Mines, Minerals and Energy ("DMME") to provide an annual report regarding the Commonwealth's progress towards its energy efficiency goals. In 2007, the General Assembly adopted a goal for the Commonwealth to reduce its energy consumption by 10% by 2022. In 2015, Governor McAuliffe created an Executive Committee on Energy Efficiency to help accelerate the achievement of the 10% energy reduction goal.
Please contact one of our renewable energy lawyers or regulatory attorneys should you have questions about these energy bills.