Children who flee the dangerous social conditions and crushing poverty of countries in Central America and Asia face another daunting challenge when they reach American soil, one with which they have no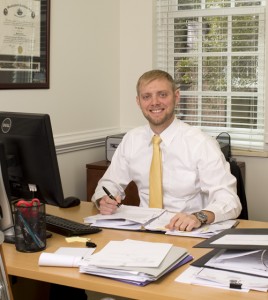 experience and for which they possess no functional skills: the United States immigration process.
Since joining GreeneHurlocker in 2014, associate Eric Wallace has given his pro bono time helping Commonwealth Catholic Charities and assisting undocumented children to navigate the path to legal residency in the United States.
"It takes a good amount of diligence to figure out the best way for these immigration cases to be addressed, diligence that can be difficult for attorney, much more so for a child who often cannot speak or read the language, and who does not understand the quirks and variables of the United States immigration system," says Wallace.
Wallace says undocumented juveniles who are picked up by U.S. Customs and Border Protection can be connected with non-governmental agencies such as Commonwealth Catholic Charities, which then attempt to find foster families to care for the children while their cases makes their way through the courts. Many times the foster families live across the country from site where the child was taken into custody, which is why some children arrive in Virginia for placement.
The path for many of the children is lengthy.  In the cases of juveniles from volatile and unsafe backgrounds making their way to the United States, special immigrant juvenile status often affords them a path to residency. Typically, Wallace works with a social worker at Commonwealth Catholic Charities on behalf of a child, facilitating trips to the courts, working with the parents of the child, and often helping to translate for children that are only beginning to learn English.
"Over the years, we have been able to help a number of children remain in the United States and avoid the types of circumstances that originally drove them from their homes abroad," said Wallace. These children come to the United States with no resources and no alternatives, so Wallace finds it very rewarding to be able to work with the skilled social work professionals of agencies such as Commonwealth Catholic Charities to provide these children some hope for a better future as they work their way along the complex legal path to residency.
"We applaud and whole-heartedly support the pro bono efforts of our lawyers, like Eric, who dedicate significant time, often without much fanfare, to enhance the lives of these children," said Eric Hurlocker, co-managing member of GreeneHurlocker.