Day 5 saw us return to Tokyo by bus in the morning for sightseeing and a Japanese professional baseball game.
This was the first day we really experienced the summer heat in Japan. It had to be in the high 90s and very humid. Akiko says it was the hottest day of the year to date. I kept thinking about this scene from Biloxi Blues. We all had that "thin layer of slime" feeling all day that at times elevated to "mostly slime." They have a never-ending supply of bottled water on the bus and we made sure all the kids kept drinking.
We met at 9 AM and were introduced to Tokyo traffic on our way to Asakusa to see the Sensoji temple. My first Buddhist temple visit went very well, thanks.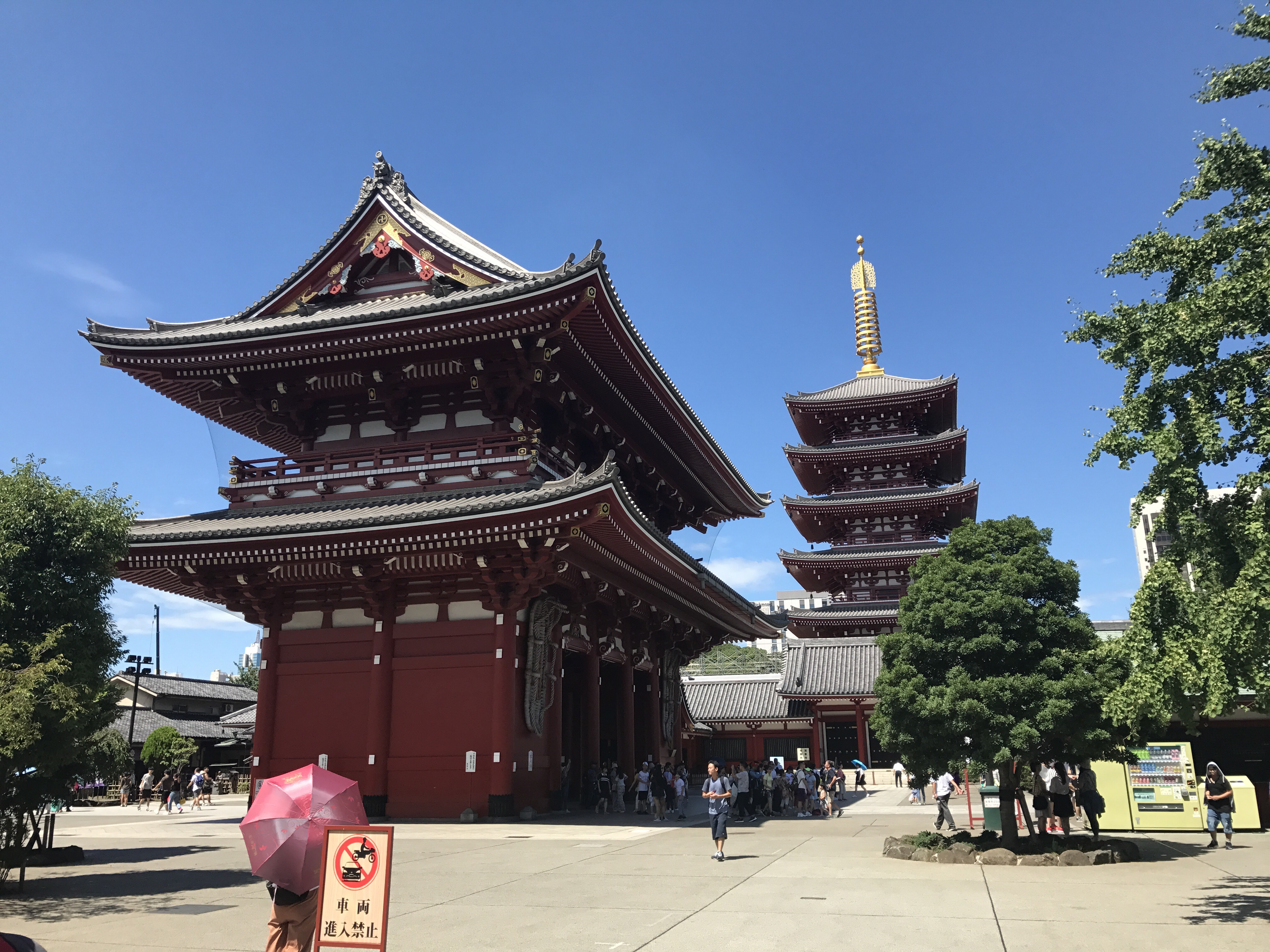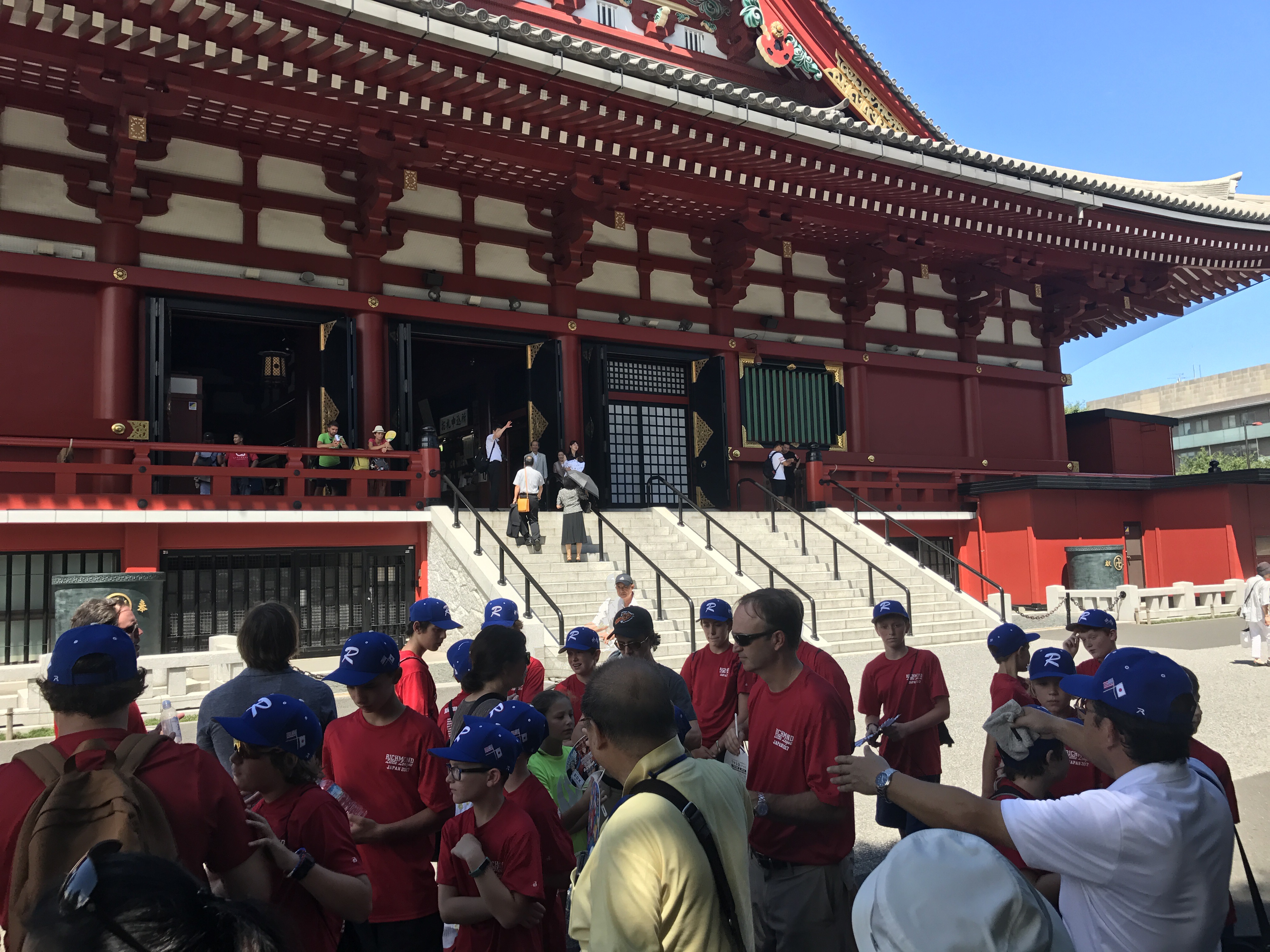 There are shrines next to the temple. Before entering a shrine, it is customary to wash your hands for purity. I've videoed the kids washing their hands and inadvertently took a video in slow-mo. Nice touch, don't you think?
From there we went to lunch at a nice restaurant in a hotel. Big buffet! Most of the kids went straight for the pizza and french fries, but some of the kids took in some fish and the other, more Japanese food items. The salad bar, if I may call it that without sounding like it was a salad bar at Denny's, was incredible: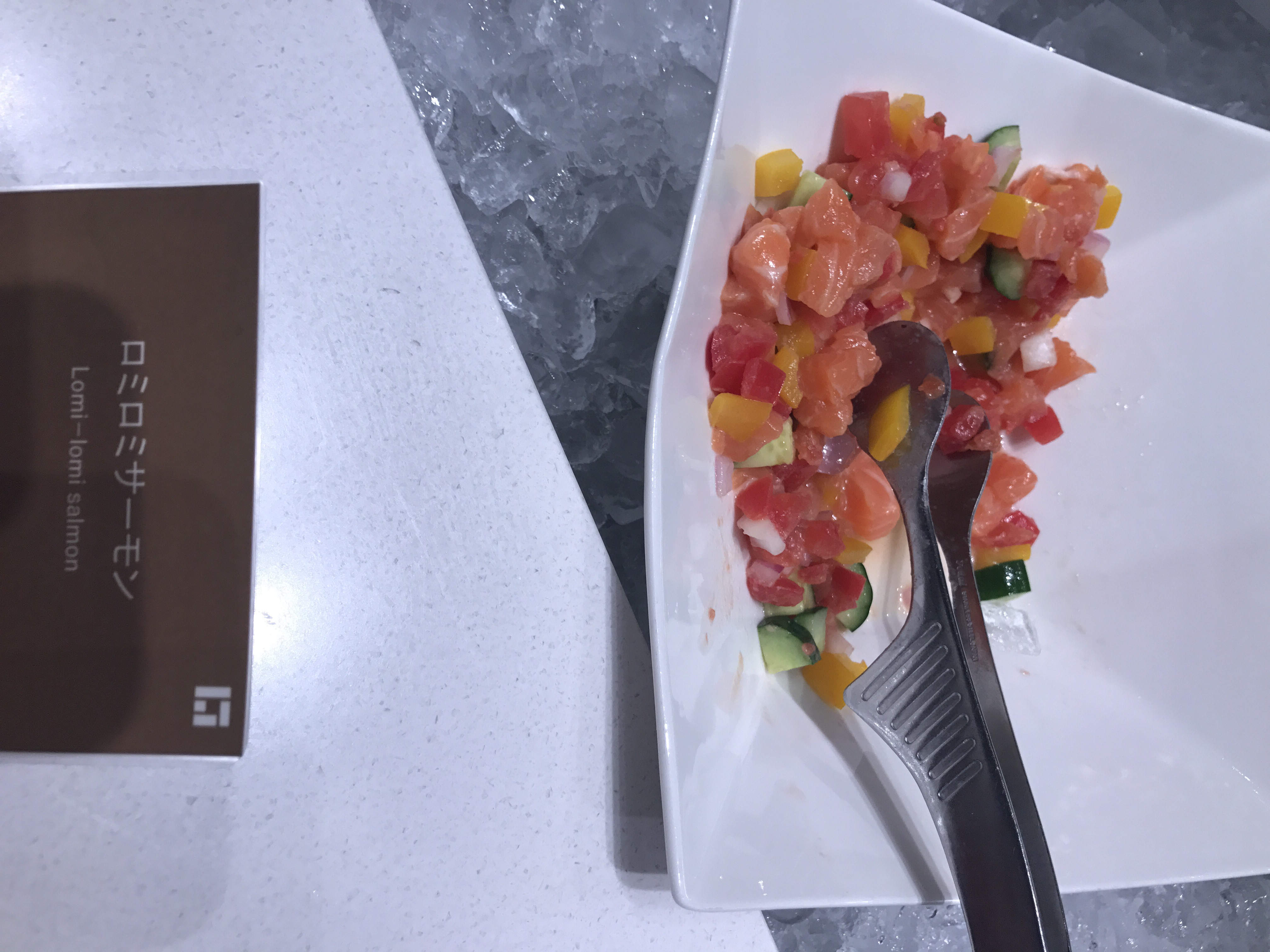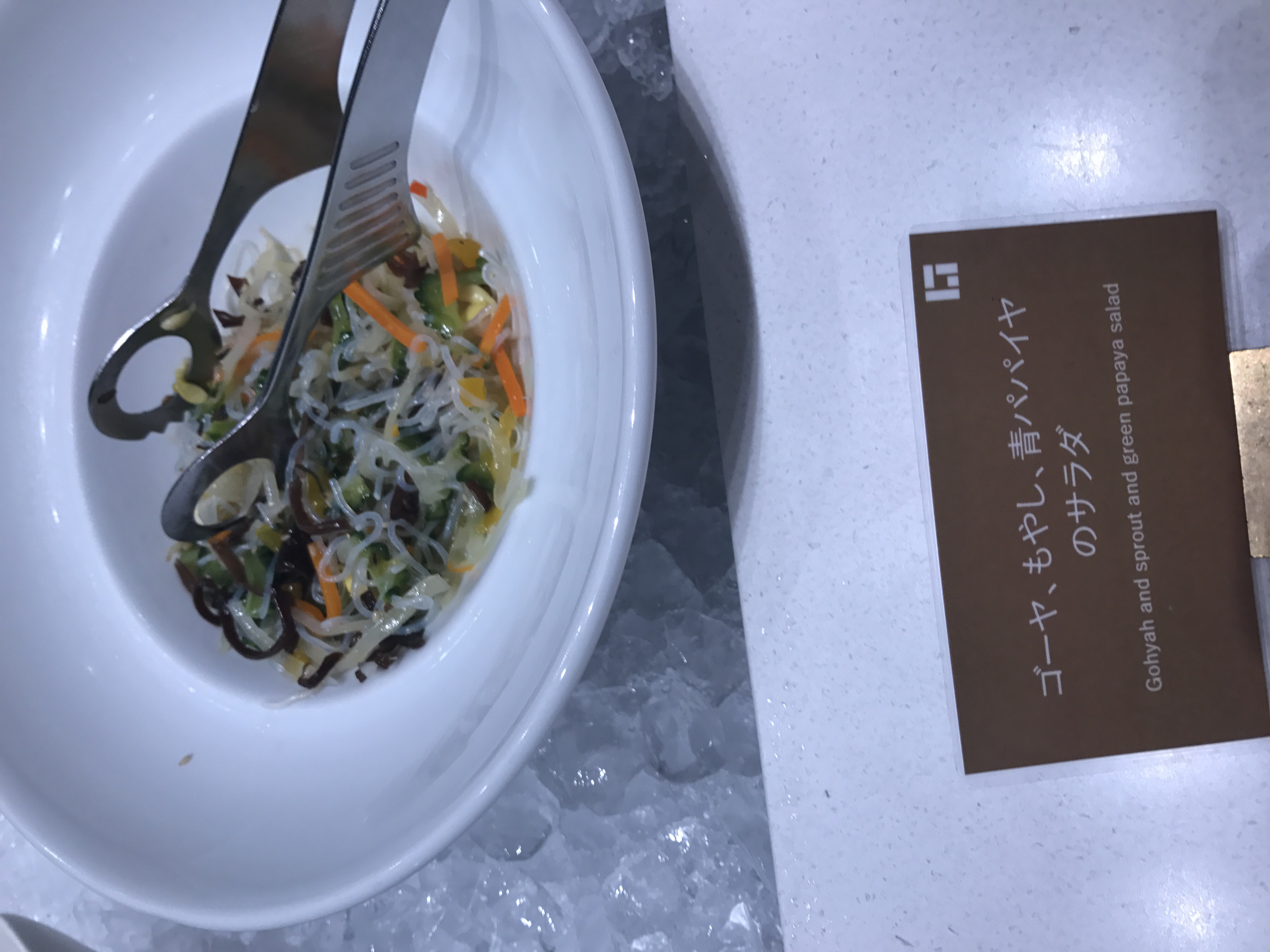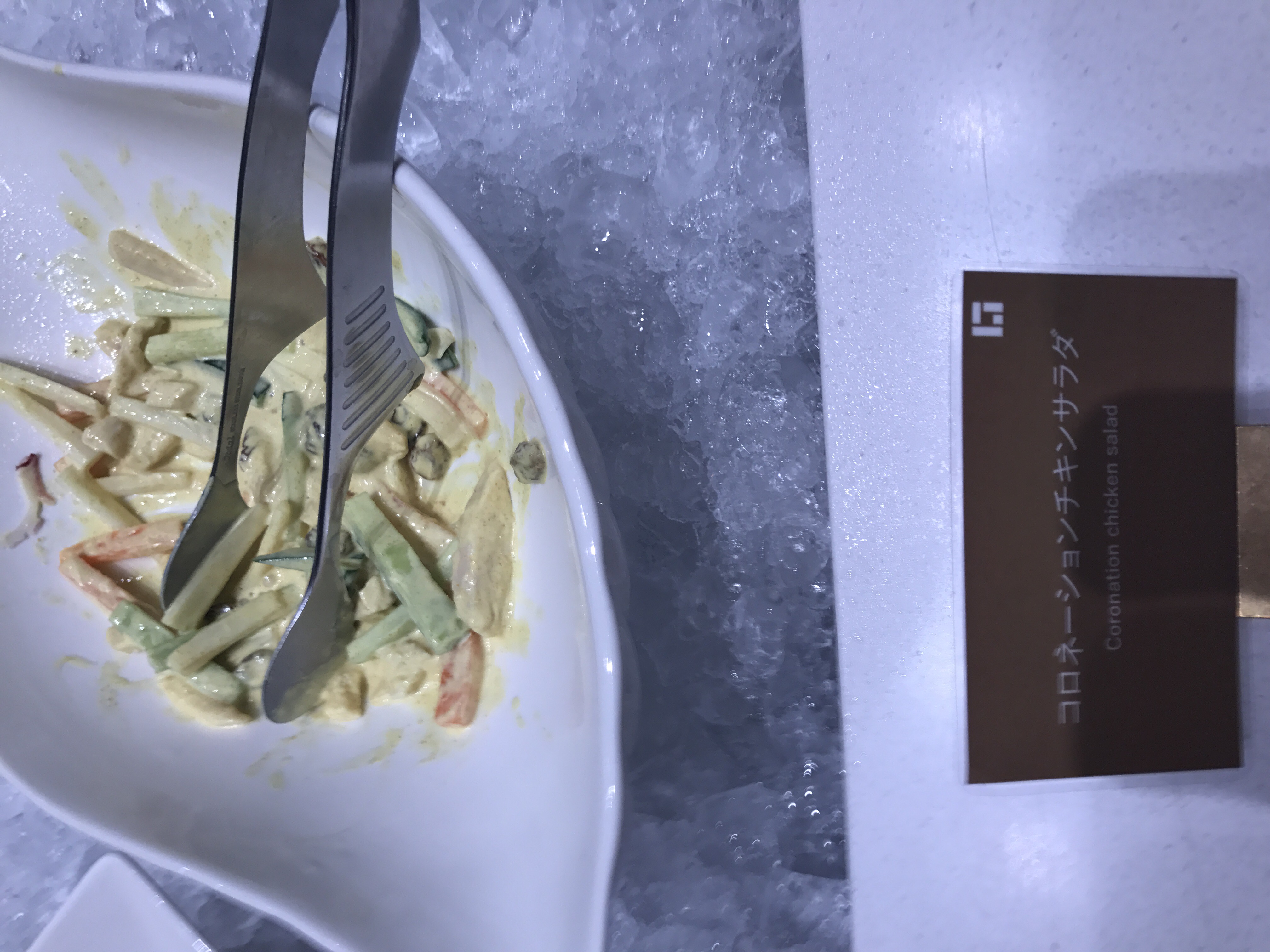 After lunch, we headed to the Yakult Swallows stadium to watch the players practice. As we sat in the seats behind home plate in our new green Swallows jerseys that they gave us, Marty and I asked our stadium guide if our kids could go into the dugout, or go shag flies in the outfield during batting practice, or sit in the left field stands during batting practice, or see the locker rooms, and a host of other requests. Every time, the guy said no. We did ask him whether they could send one of the American players over to talk to us about being in Japan. That was met with a "maybe" so we felt like we were making a little bit of progress.
We then headed across the street to the Swallows workout facility. There were fields where the players were working out and an indoor facility. Two American pitchers came over to talk with us and could not have been nicer. They gave us baseballs and signed them and also posed for pictures. We ask them a lot of questions about how they ended up in Japan, where they stay, the differences between Japanese and American baseball, and so forth.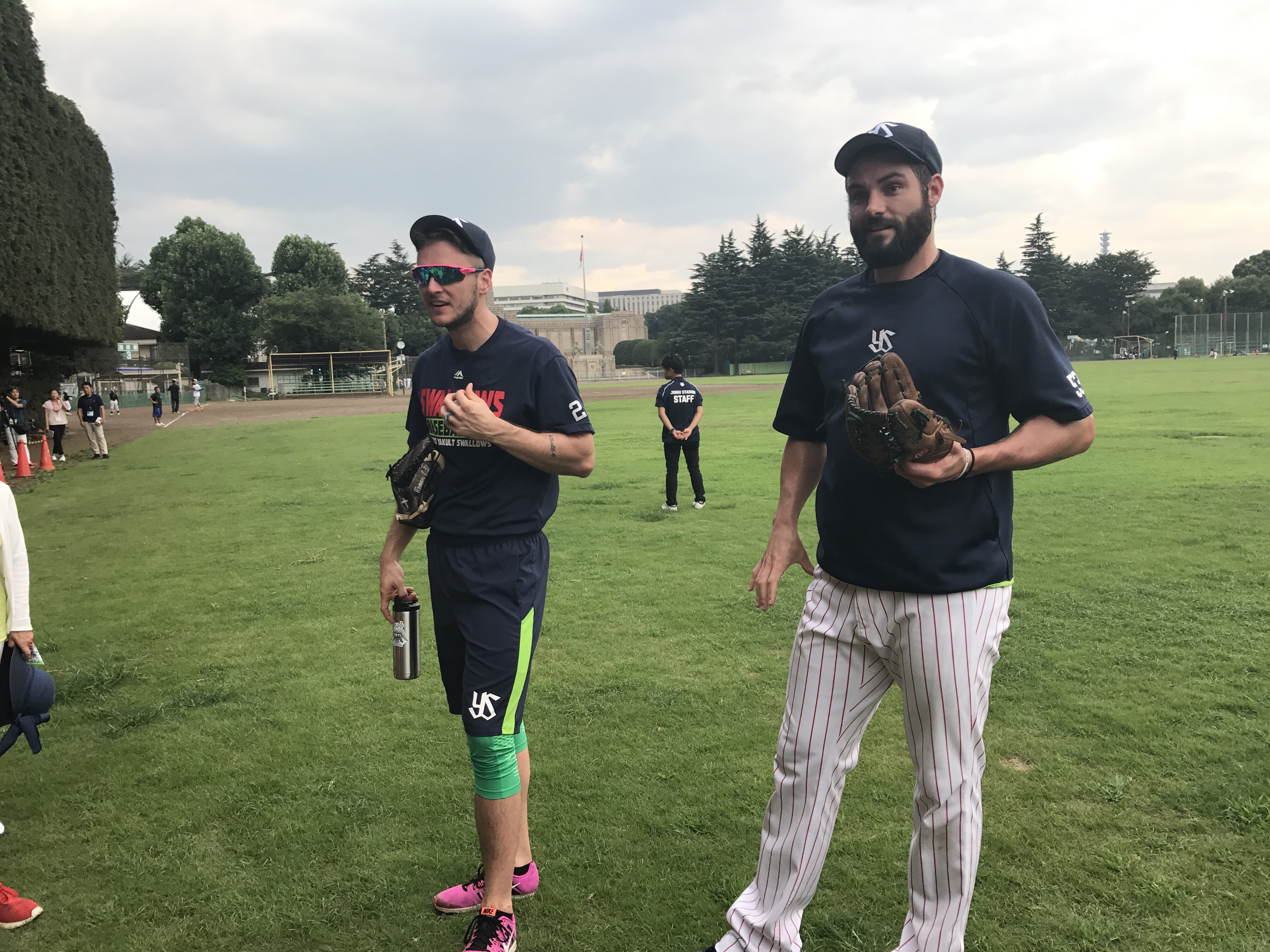 After the afternoon baseball experience, we took in a technology museum next to the stadium. We saw the types of things the Japanese are looking to invent and refine, and it was impressive. We saw a short movie on human assistive technology. We learned that the Japanese workforce is shrinking so they need more technology to do the work that humans are doing currently.
There was also facial recognition technology that was supposed to show each person how old they are. It's not quite there yet, as it told me once I was 39 years old and a second time that I was 72 years old. I'll go with the first answer.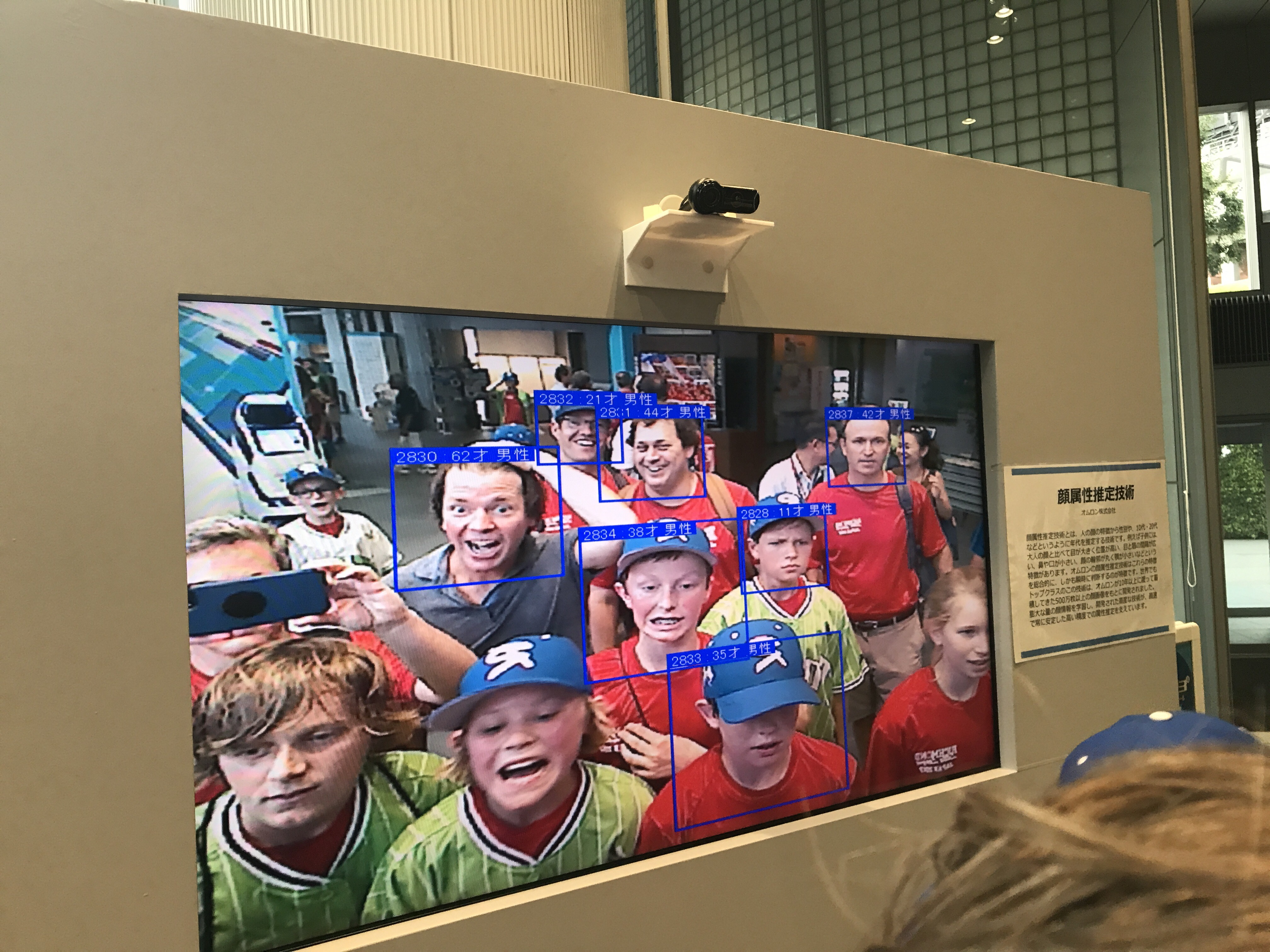 If you look closely at that picture, it shows that Kurt is 62, Marty is 44, and Brian Quigley is 21. Oh, and Will Shepard is 36. So I am going to hold off on investing in this technology for right now.
The game was really fun. The BayStars beat the swallows. A Swallows player hit a homerun and the crowd raised umbrellas and cheered. My guess is that the place would really be rocking if the Swallows had a better record. Even still, it was loud and the experience proved that Japanese fans are more energetic for a lengthy period of time then what we typically see in America.
We tried to get a wave going from our seats in right field. We made it a few sections but could not get it to stick. It was not, however, for lack of effort.
This is what happens when you hit a dinger at a Swallows game:
​
Today's schedule calls for time with the host families and then a baseball game at 5 PM. Unfortunately, it is supposed to rain this afternoon and tonight. We'll see how the schedule holds out; the kids have each plate in one game since we arrived and they are all aching to play some ball!
More pics: