Sunday Funday. The schedule called for everyone — chaperones and kids — to be with your hosts and enjoy Saitama, Tokyo, or wherever. I spent the day in Tokyo with Akiko, Hunt & Annabelle Whitehead, and their host family. Avi went with his host family and three other Richmond boys to an amusement park. He loved it.
The day began on a somber yet important note, as Japan marked 72 years since the bombing of Hiroshima on August 6, 1945, at 8:15 AM. I read that around 140,000 people died as a consequence of the bombing — both in the immediate aftermath and because of the long-term effects of radiation. Tens (hundreds?) of thousands still receive treatment. We watched some of the official ceremony on TV and it made me think of the morning if 9/11 and what an impact that tragedy had on our country and on us as individuals. Two very different events that have helped define two countries. I did not want to let Hiroshima Day pass without mentioning it here. Here's a story on Hiroshima today and the city it has become.
Ok. We spent some time in the Ginza district of Tokyo. Before that, though, we stopped at a sake bar where I tried sake for the first time. We ordered three different types. One tasted like white wine, one tasted like water with an aftertaste, and one tasted more like vodka or, as Hunt pointed out, like moonshine. Being in the bar and feeling very much like we were in Japan, the sake got us ready for …. (wait for it)….
Sumo wrestling!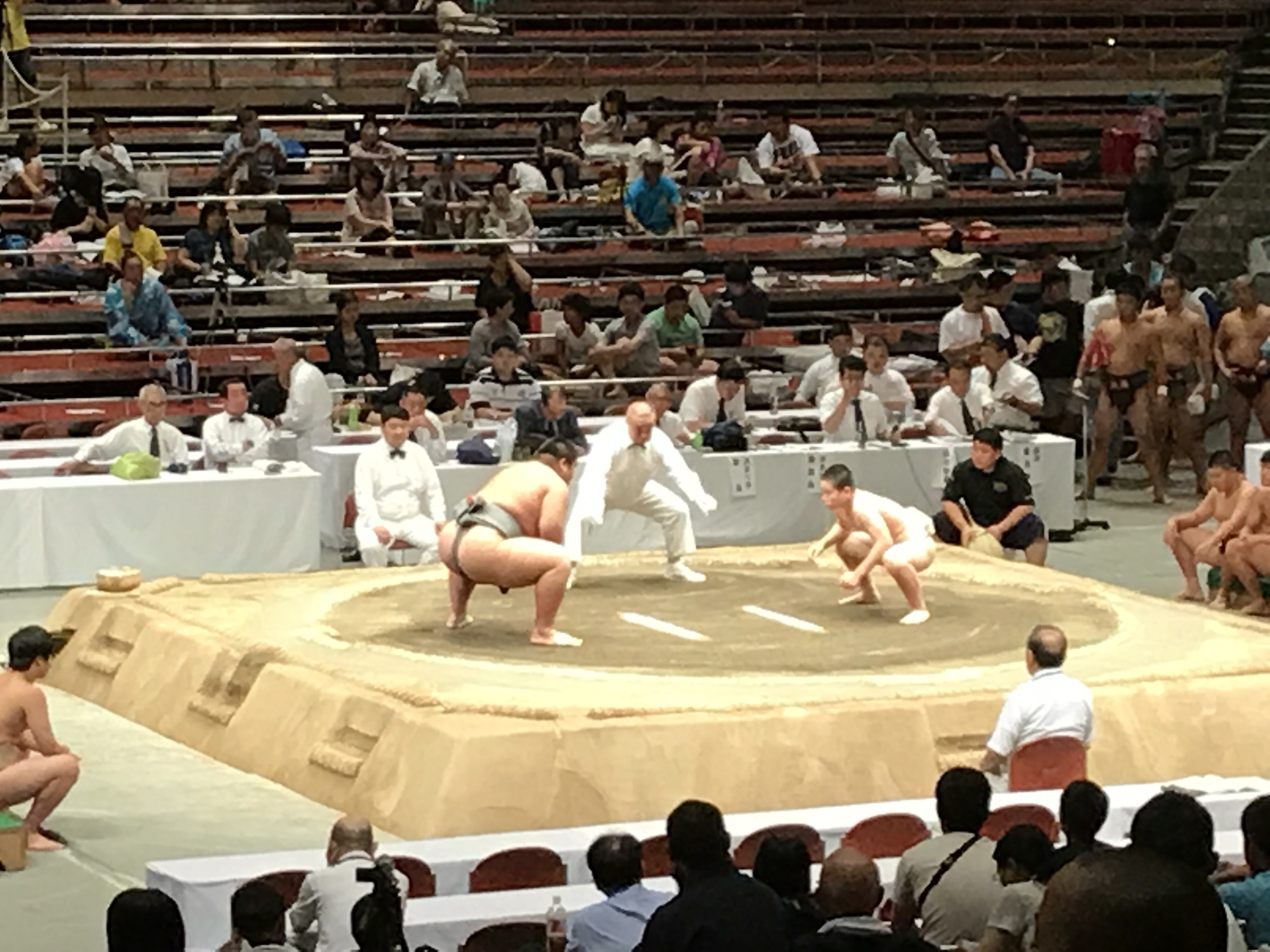 There was a tournament for participants between 13 and 15 years old. In some of the matches, the wrestlers were about equal in size. But, in others like the one in this picture, there might have been a 100 pound difference. Each match is very short. The goal is to push your opponent outside of the circle, and you cannot fall down or you lose. The circle is much smaller than I thought it was. Put two 400 pound dudes in the circle and it gets a lot smaller!
We made it to Urawa by 5:00 for the chaperones' karaoke night with the Saitama coaches. They were very gracious hosts, and by that I mean they ordered us a lot of food and every time we put our beer glass down on the table they filled it to the top. I learned that it is bad luck to fill your own glass. If you so much as reached for the bottle, someone was there to take it from you and fill your glass.
So let's talk about Karaoke Night. Our Richmond contingent is not shy. Brian Quigley led us off with a strong rendition of Day-O. Kurt Stemhagen consistently put us all to shame but he sings professionally so we were fine with that. He gave us a solid Piano Man and later followed with a smashing Bohemian Rhapsody duet with John Mills. Brian Shepherd, who apparently once sang backup for the Rolling Stones and appeared in the Hamilton ensemble, wins the award for consistently selecting the best karaoke songs (Satisfaction, Have You Ever Seen the Rain, etc.). He can select them AND he can sing them! When Stephen Spraker nailed Eye of the Tiger we knew we had to up our game. I barked out a Livin' on a Prayer because I wanted to see if I sounded as good with a mic as I do when I'm alone in my car. I don't. In fact, I wounded the song forever.
Everyone sang a few songs, including the local Japanese coaches (our hosts for the evening). They are really good singers!
There's only one thing better than a karaoke bar: a second karaoke bar. Most of us walked a few blocks away and basically repeated what we'd just done, only with different melodic masterpieces and without the food. And by this time we all sounded fantastic (or, at least, that's what we keep telling each other).
I'll post some pictures but, for now, not the videos. I want to check with the singers before posting videos of them that are certain to go viral. After all, I came on this trip to make friends, not lose the ones I have!
Here are a few pictures from throughout the day: