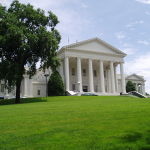 The GreeneHurlocker law firm has just published Principles of Electric Utility Regulation in Virginia, a guidebook designed to provide a plain-English explanation of some of the state laws regulating Virginia's two largest monopoly electric utilities, explained co-managing member Eric Hurlocker, one of the firm's energy law attorneys.
"The statutes governing Virginia's electric utilities, found in Title 56 of the Code of Virginia, are extremely complex, but we've made our best effort at helping citizens who must do business with and purchase energy from Dominion Energy Virginia and Appalachian Power Company understand the rules in plain English," said Hurlocker.
The guidebook and its glossary of key terms is intended to be a reference tool for those who want to gain a better understanding of utility regulation and energy policy in Virginia.
Hurlocker has focused for more than two decades on advising clients in the areas of energy law as well as commercial transactions and general corporate work for energy and technology companies, manufacturers and services providers. After working in large law firms and for utility firms, Hurlocker joined with Brian Greene five years ago to form the GreeneHurlocker firm, which concentrates on work in energy law and for businesses in the energy space.
Persons interested in a copy of the guidebook can contact Hurlocker or download the complete guidebook here.