Obstacles and Opportunities for Clean Energy Development
June 20, 2018 – 10:00 a.m. – 11:30 a.m.
Virginia Bar Association VBA on Main professional space at 1111 East Main Street, Suite 905, Richmond, 23219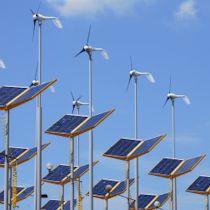 Eric Hurlocker of GreeneHurlocker is assembling a panel of experts to discuss and debate the implementation of the 2018 Virginia General Assembly's SB 966, including the opportunities for renewable energy development and the legal obstacles to implementation.
On Wednesday, June 20, all are invited to our free look into the changes in regulatory environment and legal issues brought on by the recent session of the General Assembly. Joining us will be Will Cleveland, Staff Attorney, Southern Environmental Law Center; Matt Gooch, Assistant Attorney General, Office of the Virginia Attorney General; and Francis Hodsoll, co-founder, SolUnesco. Please RSVP for this free event here.
We'll start at 10:00 a.m. with an introduction and background regarding Virginia's laws regulating electric utilities and overview of 2018 Senate Bill 966. At 10:30 a.m. our panel will discuss whether SB 966 will advance or impede competition for renewable energy; whether it will be subject to challenge under the dormant commerce clause; and whether additional policy changes are necessary to advance renewable development in Virginia.
Each participant will receive a copy of the recently revised Guide to Electric Utility Regulation in Virginia. 1.5 hours Virginia CLE pending.
If you have any questions about this debrief, please contact Eric, or any of the other Virginia regulatory lawyers at GreeneHurlocker.