This was supposed to be a baseball doubleheader day. Thanks to Typhoon Noru, we rescheduled the games to Friday. It rained hard overnight but by morning it was sunny. The fields, though, remained closed and the game times had already been changed. So while it was disappointing that we couldn't play, especially because the sun was out, the decision had been made and we needed something else to do for the day.
The local Saitama contingent hatched a quick plan. We met in the morning at the Urawa Parco in a conference room. The Parco is a huge building with shops on five floors, a movie theater, library, and what looked liked state and local offices (like a DMV or something). Many of the host families were there, too.
We led the kids in a discussion group about Japan, Saitama, travel, baseball, and other topics. For example, now that we've been in Japan for a few days, we asked the kids to share one of their adventures with others. We passed a microphone around and the kids talked about what they had done, strange things they've seen, how they've communicated with people who don't speak English, things they've learned, and so forth. The host families asked the kids questions too.
I was very impressed with how articulate and respectful these kids are. Special shout out to Sandy Kuhn who described his trip to the Japanese history museum as if he were a docent at the museum.
From there, we explored the Parco, ate lunch, and mobilized the troops for the 45-minute commute to Tokyo for the Japanese Baseball Hall of Fame.
Everyone enjoyed the HOF. In addition to memorabilia from different Japanese players, including Sadaharu Oh and Ichiro Suzuki, they had memorabilia from Americans who participated in Goodwill tours of Japan. There were bats use by Jackie Robinson and Babe Ruth and Hank Aaron while in Japan, Mike Piazza's catching gear, and others. They had the game ball from the longest ever game, a high school game that lasted 50 innings. One team won 3-0, which means they played 49 innings of zero-run ball. Just like RLL!
Sadaharu Oh played for the Yomiuri Giants, which is like the Yankees of Japanese baseball. He hit 868 homeruns which makes Oh the all-time homerun leader in the history of the world. His training regimen included using a sword. I don't know why he never played in America. Perhaps it was before Japanese baseball players did such a thing. Or maybe they wouldn't let the sword through customs.

The kids liked this building with "Richmond" on it …. look above their hands…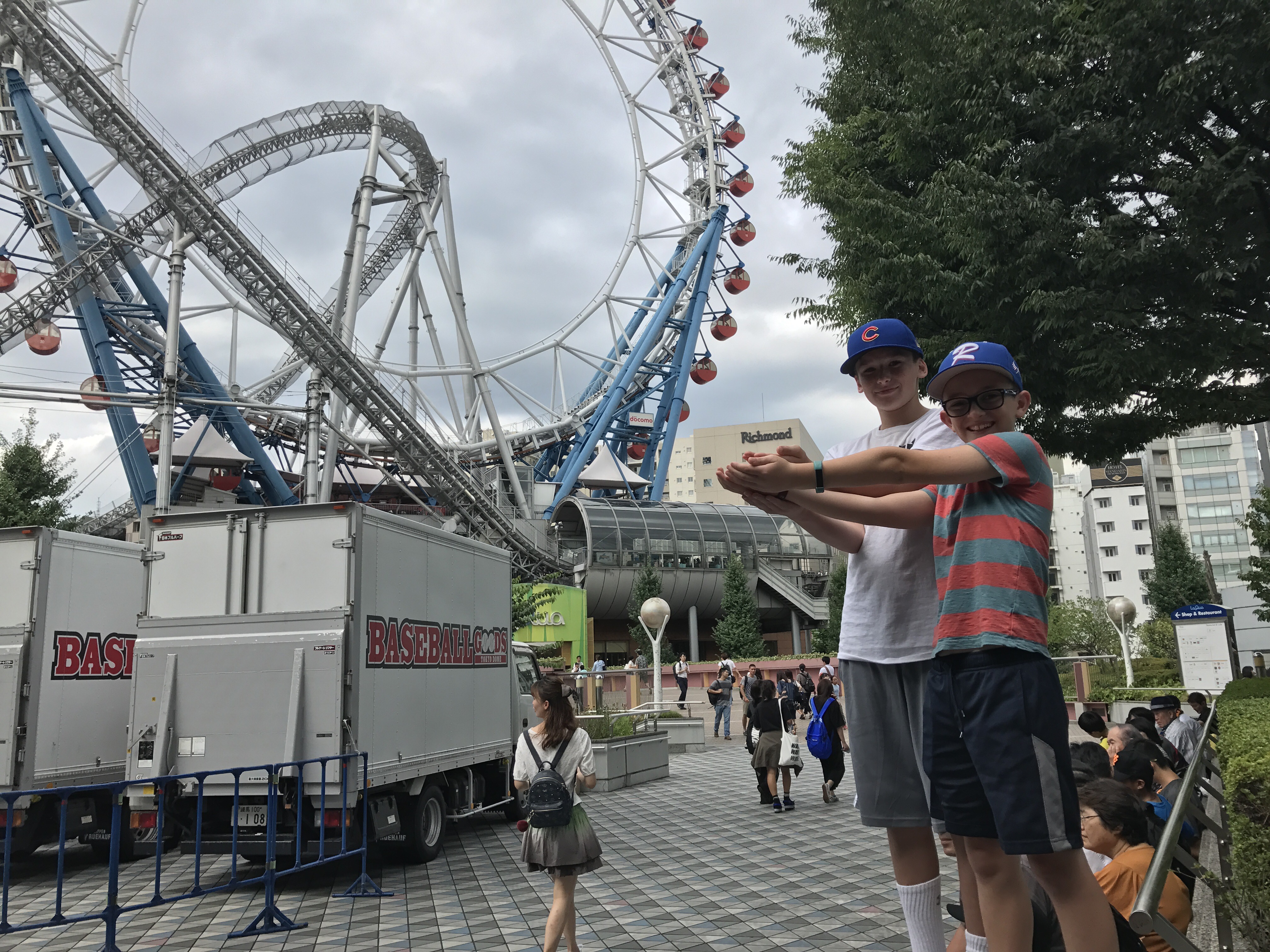 We messed around in the general vicinity of the HOF for an hour. There were rides you could go on and some went on the roller coaster or the pirate ship. Then we headed back to Saitama for the Kids Karaoke Party.
For the past few days, there have been several kids, including my own, who have sworn up-and-down they absolutely positively definitely would not participate in karaoke. (Actually, they did not swear, but they were extremely adamant in their proclamations). Didn't matter. We queued up Sweet Caroline and every kid's face lit up and everyone joined in. Here are pics to prove it.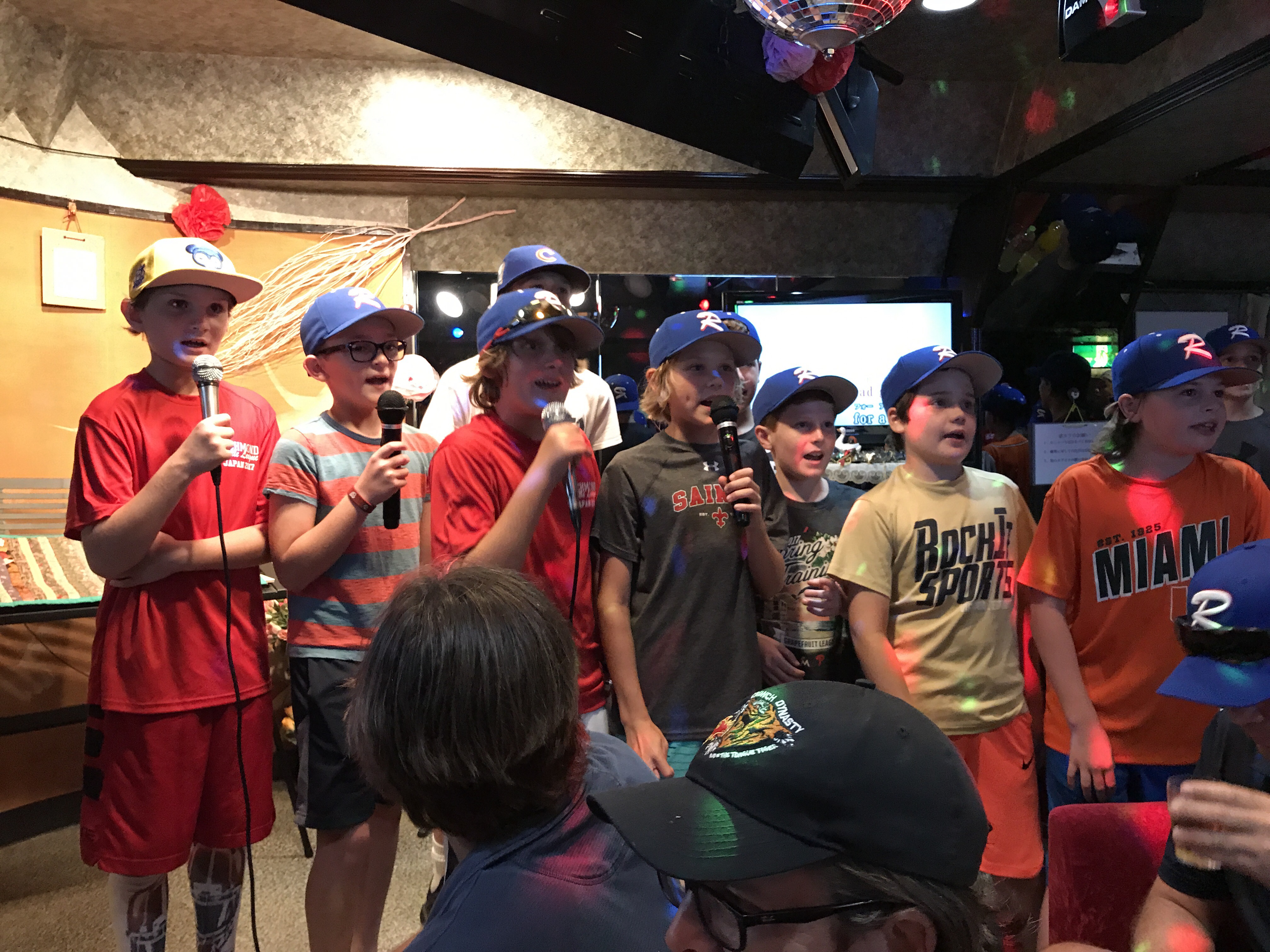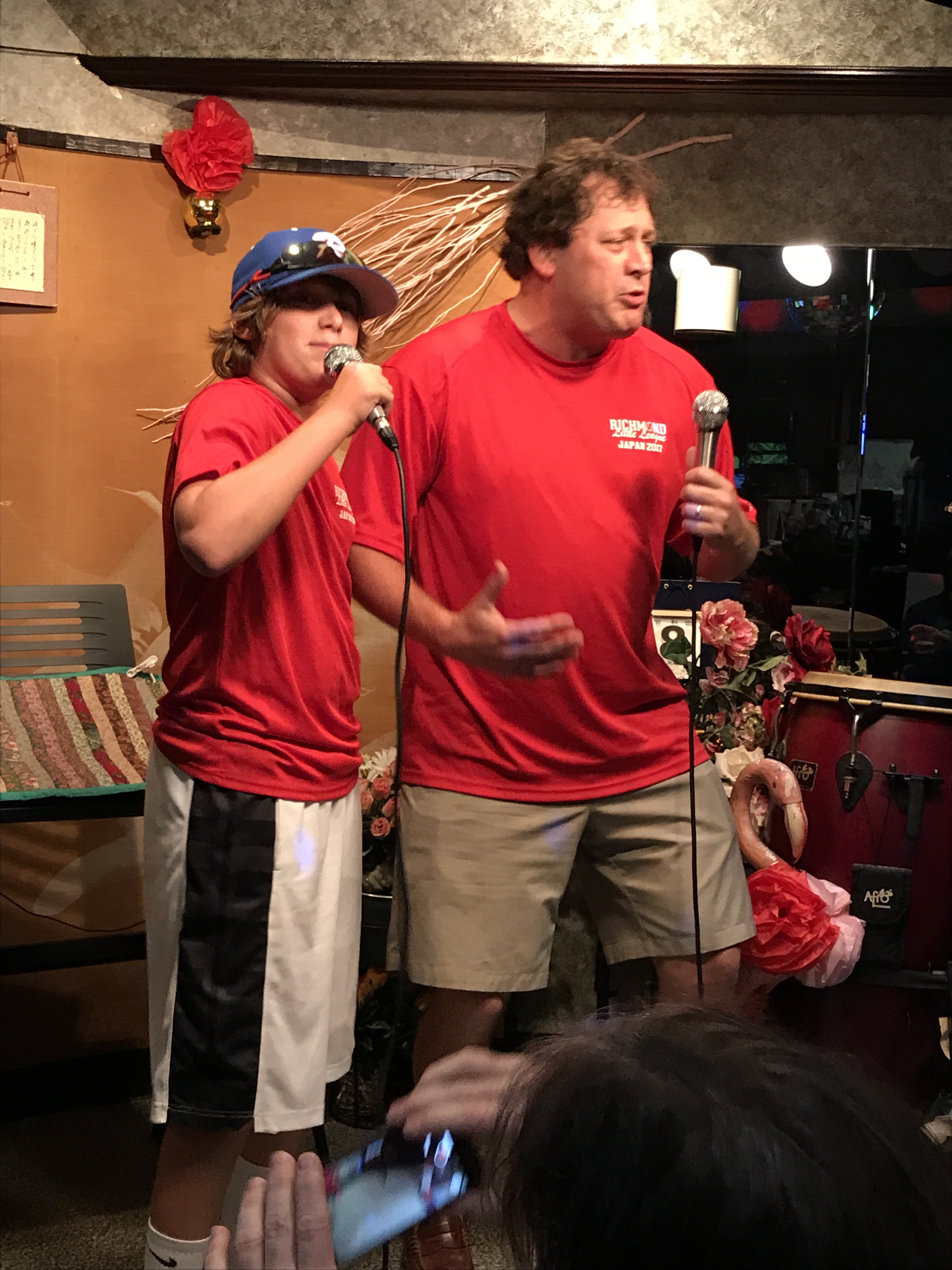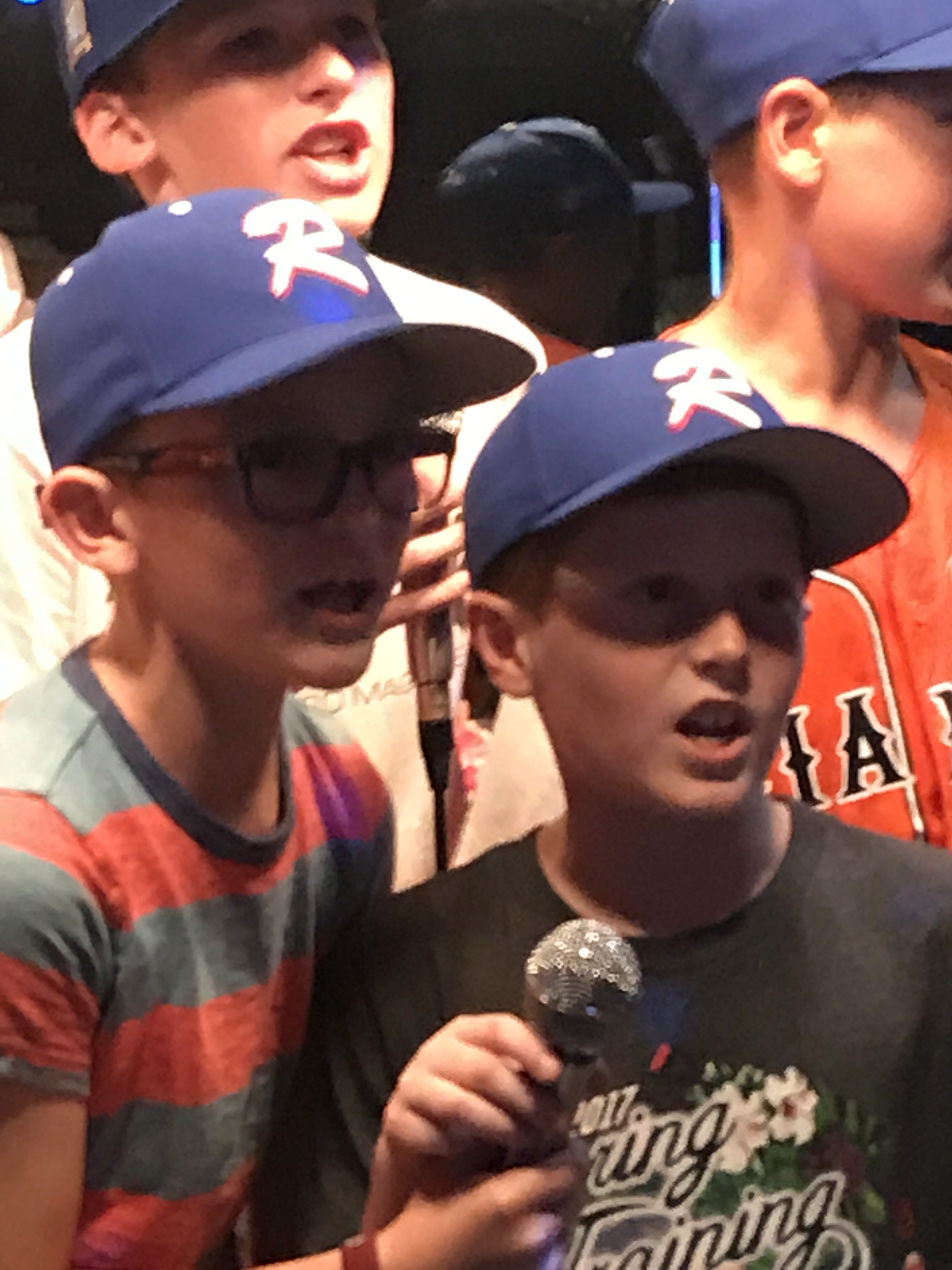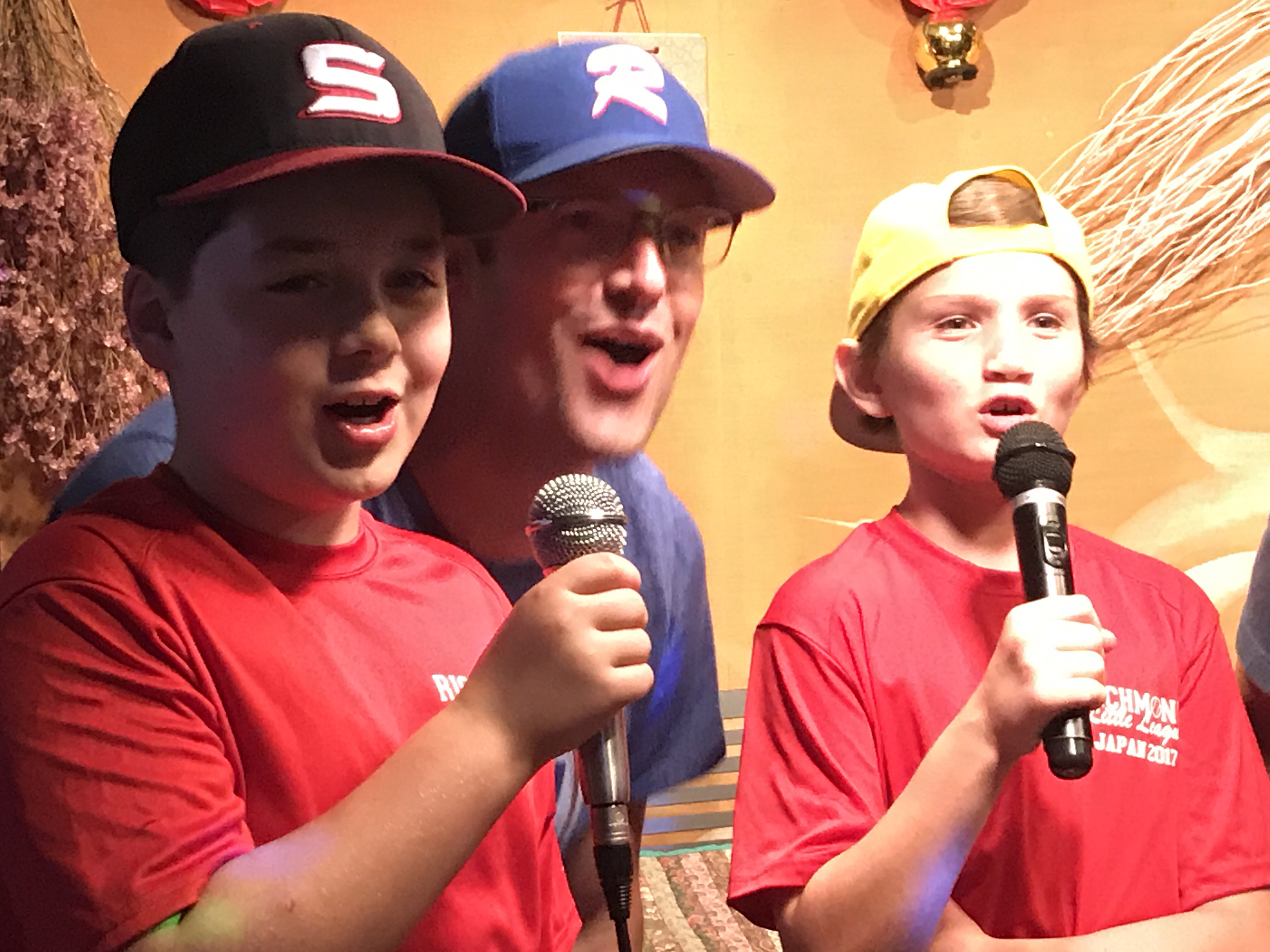 Let me sum up the evening this way: there was a lot a screaming to Taylor Swift songs. As one of the dads pointed out, when you have 11 & 12 yr old boys screaming your lyrics at a karaoke bar, you'll be worth hundreds of millions of dollars.
This is what it sounded like (this one lacks the SCREAM that accompanied others, but I thought I'd spare you all)….
​
Today we return to Tokyo to tour a Temple and the baseball stadium where we will see a professional Japanese game tonight. Looking forward to a great day.
Brian