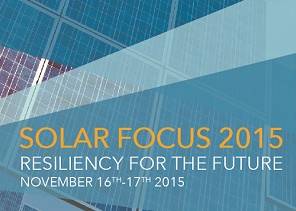 We've just returned from Solar Focus 2015, the mid-Atlantic's premier education and networking meeting for participants in the solar and renewable energy industry. As in past years, it was held in Washington, DC, and attracted a sell-out crowd. In an effort to keep everyone's energy high, our firm sponsored the coffee breaks and afternoon snacks.
In addition to all the great friendships we renewed and strengthened, along with the impassioned industry leaders we met for the first time, we attended some fantastic and thought provoking sessions on current and developing opportunities. We had the good fortune to moderate a panel on breaking into untapped markets — a topic that we will continue to follow and discuss here in the weeks to come.
Meanwhile, we snapped a few photos, so if you were not able to be there, here's a little of what you missed. If you want to know more about the conference, the Maryland-Washington, DC-Virginia Solar Energy Industry Association (who put on the conference) or the legal and regulatory environment the solar industry lives in, just call any of our energy and utility lawyers.