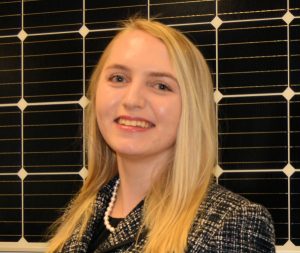 Creighton-Elizabeth Boggs, a third-year student at the University of Richmond School of Law, has joined us as an intern/law clerk working across the firm's practice areas, Eric Hurlocker announced recently.
"Creighton will be helping us with research, document preparation and client communications in our business, regulatory and energy law areas," Eric said.
We've been growing steadily since being founded in 2012 by Eric and Brian and now have seven full time lawyers. We added a partner, Jared Burden, and new office in Harrisonburg in January of 2018.
Creighton is a pending graduate of the UR law school, and earned her political science bachelor's degree magna cum laude at the University of South Carolina. Prior legal internships have placed her in the disAbility Law Center of Virginia and the South Carolina Environmental Law Center.
"I am particularly interested in demand response, energy storage and renewable energy," she points out.
In law school, she has been Lead Articles Editor & Manuscript Editor of Public Interest Law Review, has served on the University of Richmond School of Law Honor Council and was recognized with the CALI Award for Excellence in Animal Law, among other accomplishments. A non-profit she started as a middle school student in South Carolina raised funds to help animals in need and earned her Presidential Service Awards from Presidents George Bush and Barack Obama.
"We're delighted to be able to offer this inaugural firm internship to a law student as talented and accomplished as Creighton," said Eric.
The internship runs through April 2019. We'd like to introduce you to Creighton if you come to the firm's Richmond office to meet with our business lawyers or our energy lawyers.